The AIXTRON Group is a leading provider of deposition equipment to the semiconductor industry. The Company was founded in 1983 and is headquartered in Herzogenrath (Aachen City Region), Germany, with subsidiaries and representative offices in Asia, the USA, and Europe. The company's products are used worldwide by a wide range of customers to manufacture high-performance components for electronic and optoelectronic applications based on compound or organic semiconductor materials. These components are used in a variety of innovative applications, technologies and industries. These include, for example, LED and display technology, data transmission, sensor technology, energy management and conversion, communication, signal and lighting technology, and many other sophisticated high-tech applications.




HQ Graphene is a manufacturer of high quality 2D single crystals, selling directly to over 190 universities, research institutes and companies worldwide. Our customers are scientists demanding high purity and high quality crystals for scientific research.




Park Systems, the world-leading innovator in Atomic Force Microscopy (AFM), enables researchers and engineers around the globe to contribute to impactful science and technological development that helps humanity to grow and improve life standards.
Thanks to the high-level technological know-how and 100% commitment, the professionals at Park provide innovative application solutions for material and life science disciplines, to and with their customers.
With Park's high-performance scientific instruments for research and industrial communities we help to explore new phenomena in chemistry, materials, physics, life sciences, semiconductor and data storage industries. Cutting-edge AFM automation and the highest data accuracy enables to become more efficient, more accurate and more productive at your work.
Visit http://www.parksystems.com for more information.
Contact:
Park Systems Europe GmbH
Schildkrötstrasse 15, 68199 Mannheim, Germany
+49 (0) 621 490896-64 I pse@parksystems.com
www.parksystems.com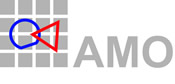 AMO's mission as a non-profit SME is to bridge the gap between university research and industrial application. In joint projects and in bilateral cooperation, research and development results are transferred to industry for the preservation and creation of jobs. The potential of nanotechnology is thus tapped in fields of application such as information technology, biotechnology and environmental technology. AMO operates a state-of-the-art 400 m² clean room under the direction of Prof. Lemme and offers a range of services from consulting to prototype development.




Heidelberg Instruments and SwissLitho AG joined forces in early 2018. Together, they offer the widest range of direct write micro- and nanolithography systems in the world, from low-cost desktop solutions to high-end writers for substrates larger than 1m. Their products are used for prototyping in R&D, industrial manufacturing, and academic research. A full wafer can be patterned in a few minutes with sub-micron resolution, making mask aligners obsolete. Single-nm resolution with simultaneous pattern inspection is achieved with the unique NanoFrazor technology. Systems from both companies can be used to obtain micro- and nanostructures with high aspect ratio as well as in grayscale mode, which makes them particularly suitable to create templates for NIL applications.




Headquartered at our advanced manufacturing facility in Knoxville, TN, USA, General Graphene Corporation is a world leader in the manufacturer of high quality Chemical Vapor Deposition (CVD) graphene sheet and product development services. www.generalgraphenecorp.com
We invite industrial companies in the energy storage, industrial metals, electronics, bio technology, life sciences, membrane films, nano filtration and composites industries to contact Kevin@generalgraphenecorp.com to discuss how CVD graphene can be incorporated into your product to solve challenges and deliver new levels of performance.




The Institute was founded on 1 October 2020 on the merger of the Institute of Electron Technology and the Institute of Electronic Materials Technology, conducts scientific research and performs developmental work in the fields of micro- and nano-electronics, materials engineering, optoelectronics and nano-photonics, microwave electronics, power electronics, transparent and flexible electronics. The Institute implements and disseminates the results of these works in the economy, being open to cooperation with entrepreneurs.
The scope of the Institute's operations includes in particular:
• development of the design and production technology of micro- and opto-electronic solid-state devices, including: microwave and photonic discrete elements, detectors and sensors, integrated circuits microsystems and electronic subassemblies, and microelectronic hybrid systems power devices, diffraction elements;
• development of methods for the design of micro- and optoelectronic solid-state devices, and development of new methods for characterization materials, structures and solid-state devices;
• development of technologies for the production of new materials, such as, silicon carbide, epitaxial graphene, flake graphene, ceramic-metal composites, advanced ceramics, as well as testing their properties for industrial use;
• standardization, certification, and approval activities.
The research at the Institute is organized around technology lines for: optoelectronic subassemblies, silicon subassemblies, wide band gap semiconductor subassemblies, advanced materials and the LTCC technology. These states of the arts lines enable the scientific community to participate in research, and entrepreneurs to develop new solutions.




Grenoble Green Graphenofluid (GGG) is a R&D upgrading project, funded on the liquid phase exfoliation of graphitic microparticles by the use of hydrodynamic cavitation inside microchannels. That innovative and patented process produces graphene nanosheets whose thickness runs from 1 to 10 carbon layers, with an average 150 – 300 nm lateral size. Low hydraulic power is required, so that the low-cost mobile experimental facility is able to produce graphene nanosheets on demand, under the best possible conditions of safety. The graphenofluids are delivered in an aqueous solution with surfactant, at a concentration around 1g/L. Research is currently performed with a bio sourced solvent as the host liquid.




attocube is recognized for innovation and excellence in development and advanced manufacturing of cutting-edge components and solutions for nanoscale applications in research and industry. The business sector 'Cryogenic Instruments' includes nanopositioners, cryostats and microscopes for research in extreme environments, while 'Nanoscale Analytics' (formerly neaspec GmbH) offers optical imaging and spectroscopy microscopes using ground-breaking and patented optical background-filtering techniques.
attocube has local sales offices throughout the US and a large network of distributors, covering more than 40 countries. A highly skilled team guarantees highest levels of consulting competence, a comprehensive on-site installation service and excellent after-sales support.




For more than 30 years, NT-MDT Spectrum Instruments (NT-MDT SI) team has been developing, manufacturing and supporting research equipment for nanotechnology. First of all - in the field of scanning probe microscopy. The high level of after-sales service and technical support of customers of such powerful integrated systems allows the NT-MDT SI group of companies to retain the leading positions of the manufacturer of high-tech scientific tools for research and production organizations. Currently we offer AFM, STM, SNOM, AFM-Raman-TERS-SICM and Nano IR systems with different level of flexibility and automatization for various research needs.




Microlight3D is a manufacturer of high-resolution 2D and 3D microprinting machines. The company enables scientists and industrialists looking for new design tools to produce highly complex micro parts, in any desired geometric or organic shape, with a perfect finish. Microlight3D's equipment is designed for applications in micro-optics, micro-fluidics, micro-robotics, meta-materials, cell biology and microelectronics.